Summer Solstice Means Extra Long Days, A Boon for Solar Customers
Summer solstice may be the happiest day of the year for sun lovers (who doesn't love more daylight?), and solar customers have extra reason to celebrate. Longer daylight hours mean more power than average flowing through your solar system. How will you celebrate all those available electrons?1
If you participate in net metering, the credits you see on your next bill may be cause for a happy dance — sending surplus power from the longest day of the year back to the grid will come back to you as real dollars and cents.
Or perhaps you'd rather live it up on the first day of summer and put your electricity perks to immediate use. Let's take three cities as examples: New York, Anchorage and Honolulu, each of which averages 12 daylight hours throughout the year. Here's how much additional daylight these cities get during the summer solstice:
New York gets close to 15 hours of daylight on the solstice in June2 — three more hours of sunlight than average.
Anchorage sees the biggest daylight swing with almost 19 hours of solstice daylight3 — seven hours more than average!
Honolulu's daylight hours change very little by season with just one extra hour of daylight during summer solstice.4
Let's start by looking at what an average 5 kilowatt (5,000 watt) rooftop solar system can do with a bonus 180 minutes of full rays in the Big Apple:
5,000 watt system X 3 hours = 15,000 watt hours or 15 kilowatt hours (kWh)5
For starters, you could throw a really killer block party. If you can get your hands on 1,440 lbs of ice and 3 party-grade ice shavers6, you'd have enough power to make more than 3,000 snow cones in three hours!7 You'll need some extra hands, of course. Or you could power six bounce houses for the same amount of time,8 which is a sure kid-crowd pleaser.
Maybe you'd rather kick the official summer season off with a trip to the lake. If you have a charging station for an Electric Vehicle, you're in luck! With 15 kWh you can drive your EV an extra 50 miles,9 which definitely beats paying summer prices at the pump.
In Anchorage, seven more daylight hours and a 5,000 watt system gives you 35 kWh to play with.
Happy news for Alaskans who take advantage of long summer days to explore their beautiful state — their above-average 35 kWh is enough to charge an electric quad for nearly 100 miles.10,11 That's respectable solstice excursion!
Or those in the Land of the Midnight Sun could host a gaming party no one is likely to forget - with enough solar power to run 55 video game consoles for seven hours!12 If you can find outlets to connect them all, that is. And enough Reindeer Dogs to go around.
And finally, near-the-equator Honolulu nets 5 kWh with its extra hour of daylight on an average rooftop solar system.
Compared with Anchorage to the far north, an extra 5 kWh may not seem like much, but it's enough to power four electric bikes for about 75 miles — more than enough to get your family to the beach and back.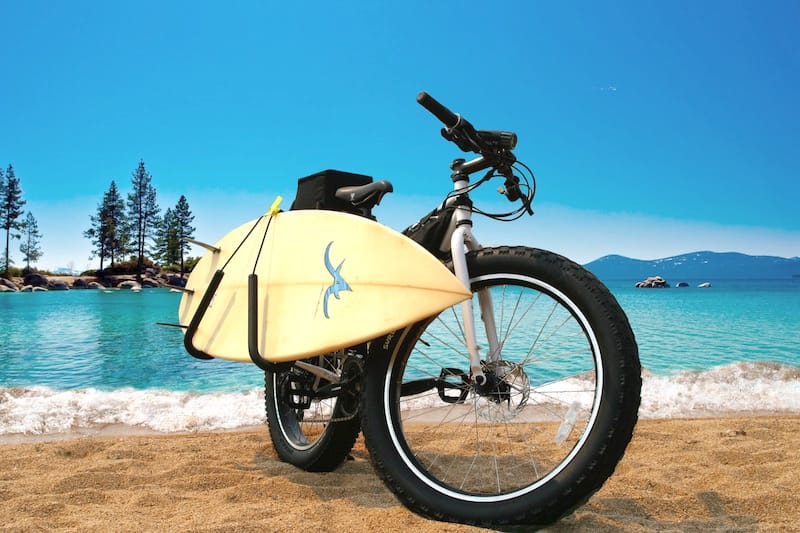 credit: http://twowheelelectric.com/
It's also enough to run an air conditioner for an extra hour.13 Or better yet, cool off Hawaiian-shaved-ice-style with a 1,000 snow cone party.
Of course, you can plug into bonus solstice energy anywhere with solar power.
And if you have a home battery, your options are even more wide open since you can store those extra kWh and use them well after the sun goes down. Add some lighting and make your block party last all night or wait until the weekend to bike to the shore! No matter how you celebrate, take a minute to appreciate your personal supply of clean, renewable energy on its red-letter day.
If all this celebrating has you feeling left out, Vivint Solar can help you get in on the solar action. Visit us at vivintsolar.com to learn more about solar panels, EV charging stations and home batteries.
Endnotes:
1. Your solar provider will have calculated your electricity needs based on projected annual sunlight, which of course accounts for changing daylight hours throughout the year. We're not suggesting the solstice changes your yearly output, just celebrating the fact that you're likely to get more hours of production on the longest day of the year, assuming plenty of sunshine. Consumers in hot climates also tend to use more energy during the summer months, which may affect net energy production throughout the year.
2. http://www.new-york-jfk.climatemps.com/sunlight.php
3. http://www.anchorage.climatemps.com/sunlight.php
4. http://www.oahu.climatemps.com/sunlight.php
5. Assuming watts AC and ideal sun positioning
6. https://snowie.com/product/snowie-3000/
7. https://snowie.com/forums/topic/shaver-amp-and-watt-usage/
8. http://partytime-rentals.com/learning-center/bounce-house-power-requirements/
9. https://pluginamerica.org/how-much-does-it-cost-charge-electric-car/
10. https://xgev.com/autos/citadel-atv-pro/
11. https://www.electricalsafetyfirst.org.uk/amps-to-watts-calculator/
12. http://energyusecalculator.com/electricity_gameconsole.htm
13. http://energyusecalculator.com/electricity_centralac.htm