Process of installing solar panels
Installing solar panels can be one of the most intimidating parts about going solar. Strangers on your roof with power tools and high voltage wires is understandably stressful. That's why Vivint Solar has hired the best installation crews in the country.
Designing and sizing solar panels for your home
We have an in-house team that will custom design a solar energy system specifically for your home and energy needs. Our team will look at your past energy usage and conduct a site and roof survey to make sure the system is the right size for you home. Before they build the system, you'll have a chance to review and approve your solar system design.
Solar panel installation process
Two teams will arrive at your home on installation day. One team will actually attach the panels to your roof, and the other will take care of all the electrical work. Typical installations usually take between 4 and 8 hours.
After the teams install and connect the solar panels, the foreman will show you how to turn the solar energy system on and off. Remember that the system won't be operational just yet; there are a few more inspections and approvals that will need to happen before you can turn it on. But at least your neighbors can start to admire your solar panels, and you can brag about how green and modern you are.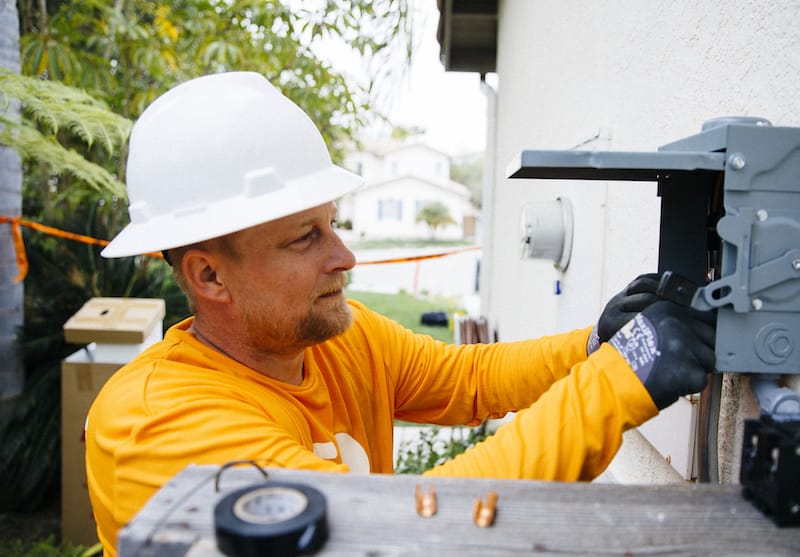 Turning on the solar panels
Before you can turn on the solar energy system, it will go through 1-2 final inspections— typically, one with your municipality, and one with your utility company. The inspector will look at things like the installation, structural integrity of your roof, and your electrical system.
After the inspections are complete, we'll request Permission to Operate (PTO) from your utility company. This just means we're getting permission to connect your solar panels to the power grid (it does not mean that we're requesting paid time off. We know, it's confusing). We'll notify you as soon as we receive PTO so you can turn on the system.
Monitoring your solar panels
When you go solar, you'll have access to the Vivint Solar Account Center. The Account Center is an online service that shows real-time progress on your solar account. Once the system is turned on, your Account Center will give you daily insights about your solar production, like how much power the system is producing and when it's producing power throughout the day.
See? Solar installation isn't as scary as it seems (unless you do it yourself, of course). To learn more about our easy installation process, schedule a free consultation with a solar rep or give us a call at 1-877-404-4129.
How to Go Solar
Vivint Solar makes renewable energy a simple and affordable alternative. We take care of everything from solar system design, to paperwork and permitting, to installation and maintenance.